8.
Team building/group truffle experience
(Available in English language all the year round)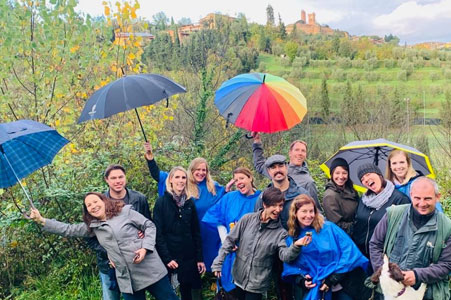 Truffle hunting could be a very special group activity, also for a corporate team building: mother nature, its scents, its silence… hunting for something so precious and out of the human control!
Every time we need to start with a little briefing: the forest is "sacred" for the truffle hunter, it is a place where every day we are the "guests" and not "the owners"! It seems something obvious, but in a few minutes, people understand that it is something much more important than they can imagine. The truffle walking in the forest with the dog will be very easy and suitable for everyone, so no special clothing is required (a pair of comfortable shoes will be perfect)!

During our truffle walking in the forest with our canine expert truffle hunter, we will tell you about all of the different truffles that grow in Tuscany throughout the year , their natural habitat, how to preserve them, the organoleptic characteristics of truffle, its biological cycle, and very importantly, the know how to spot a very high quality truffle instead of the "fake" or "flavoured product"; we will entertain you with truffle stories, such as the one about the largest truffle in the world (found in San Miniato's area in 1954), the legends that recall the truffle myth that look so much like superhero's story… but, on that day, the only one superhero will be the truffle dog!

With the truffle hunting we can combine a simple truffle tasting, we can include a wine tasting, a full truffle lunch (or dinner) or we can add a cooking class/show with a professional Truffle Chef… we can customize the full experience around number of guests, season and of course, your budget!
There is not a maximum number of guests because we cooperate with professional accommodation facilities like restaurant, villas, winery etc. where we have a guarantee of quality services and fresh products. Of course, a large group will be split into smaller groups, each one with its own truffle hunter, a truffle dog and a truffle guide; each guest will have the chance to listen, ask questions and satisfy his or her curiosity; and why not…it's a very special chance to dig out his first truffle!

Program schedule and its price will be created ad-hoc for each request.