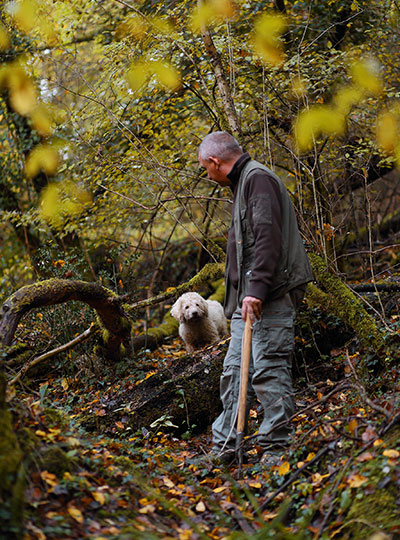 My name is Massimo and I'm a truffle hunter; I was born in 1974 in San Miniato, a little medieval town located in the heart of Tuscany and deservedly listed as one of undisputed Capitals of the White Truffle (Tuber Magnatum Pico). "I consider myself one of the few privileged people to have grown up "in the middle of truffles": my grandfather Lino was one of the firsts truffle hunters in Tuscany with "capital T" and my dad Salvatore, was the President of the Truffle Hunter Association for 18 years!
They are the people that gave me an intense passion for this incredible "Diamond of Nature", respect for the natural habitat and truffle hunting tradition, a love for the truffle dog (the real superheroes during the hunting) and, of course, a big passion for its valuable use in the kitchen with traditional recipes.

As a result, today, with the help of my family, I am proud to tell you about the real and high quality truffle from our area of Tuscany (so different from the "truffle aroma", chemicals or "fake truffles"), its tradition, its history, the legends that recall its myth and its uses in the kitchen… this is my heritage and way to preserve the truffle tradition that is lost in today's commercialized "Truffle Business" and, more importantly, it is a method of preserving a very unique habitat in the world where truffles grow in their wild habitat, not farmed as in France and other areas!
Each one of my Truffle Experience is private and suitable for the whole family, and can be customized upon your request: it's very important to me that I pass onto you insider "truffle knowledge" that I answer all of your questions and satisfy your "truffle curiosity"! When you depart from your truffle experience, you will be an "Ambassador of the Real Truffle" because you will be able to spread the truffle tradition and protect a special habitat where the "Food of the Gods" grows! I look forward to welcoming you!