TRUFFLE
HUNTING
"Whoever seeks a truffle... finds a treasure"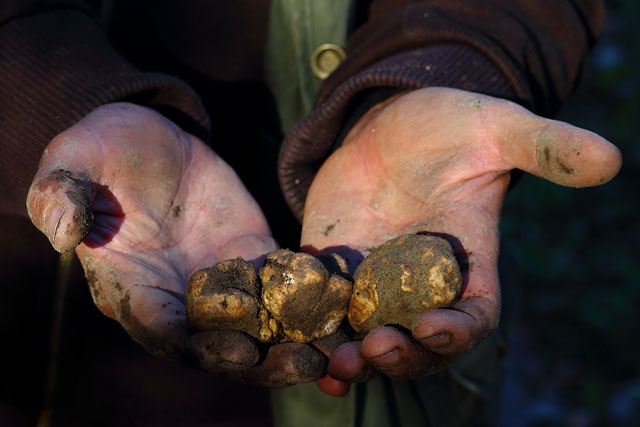 No, no mistake!! Who comes and seeks me... will find a treasure! And... to better explain what I mean, I will leave you with the most experienced guide each single truffles hunter could wish to have... his truffle-dog.
"The dawn has still to come when I see from my kennel the lights of my master's house turning on and I immediately understand we'll soon leave and go seeking truffles, he leaves home, comes towards me with the dreamy expression of a child on his face; in the car, on the way, he looks at me and asks loudly if I think today it's better to take the "long trail" or not... I look at him, wag my tail and he smiles "Yes, why not! If nothing else, we will have a walk away from the chaos!!". Question and answer are the same each single day.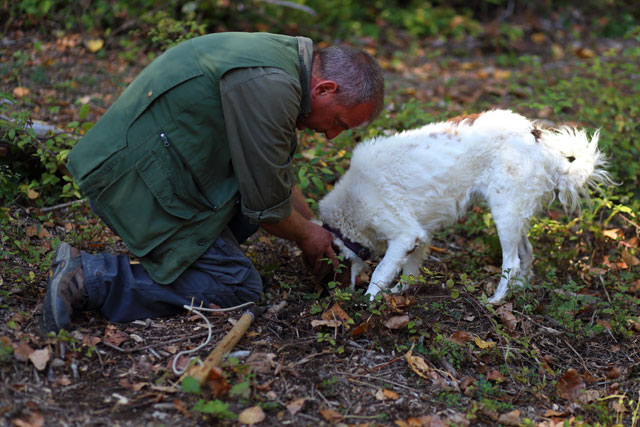 As soon as we arrive, we hop off the car and I take the opportunity to sniff a bit here and there and try to figure out who, among my colleagues, is already at work. Shortly after that, "my man" calls me, we look at each other and understand that it's time to "stop playing, time to rock!".Entering the woods is always a unique and exciting ritual, un undescribable mix of emotions and impressions: the scent of nature, the silence interrupted only by the sound of tree branches and from time to time by my master's voice, calling me softly, not to commit the sacrilege to interrupt such an enchanted magic moment.Now I know all the trails, I look around, sift the ground inch by inch... then I suddenly stop, turn around and start wagging my tail wildly, I carefully sniff and after identifying the exact point, I nod at my master: he already understood, he knows me very well, I see him running towards me and I start digging. He comes quickly and tries to calm me down stroking my back. After a little while we find ourselves digging together, with a joy and a curiosity comparable only to that of a child, unwrapping his gift on Christmas Day! Then the scent intensifying, spreads over and fills the air around and finally... that's him! King Truffle!My master sniffs it with his eyes closed and when he opens them again, he realizes that the merit is all mine: he caresses me, embraces me, makes me too smell the precious tuber to express his gratitude and tell me "you have been good, you are the number one!". He hands me a biscuit as reward, we cover the hole carefully, respecting Mother Nature, continuing then our search.During the day we live many such moments as this and each time with the same intensity and emotion, no matter whether our search is successful or not, the most meaningful thing is to be here, in cooperation with Mother Nature.The way back home is always the same: to go out of the woods is the ending of a wonderful dream. Our energy suddenly fades away and we can't wait to be home again. I jump into the car and fall asleep, I open my eyes from time to time to look at my master, who drives and happily whistles. He sees me, winks at me and smiles. I wag my tail and fall back asleep, dreaming of new exciting adventures to live together with him.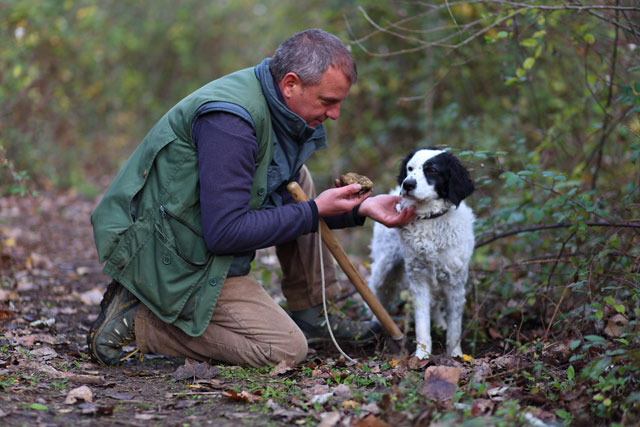 Here you have a few hints how to find the treasure, by your own, with your friends or in a group:
- una dimostrazione in tartufaia naturale: accompagnati da tartufai esperti con il loro cane nei pressi di San Miniato, ha la durata di circa un'ora e mezzo da momento del ritrovo ed è adatta a gruppi numerosi in quanto non è richiesto un equipaggiamento particolare e il terreno è prevalentemente pianeggiante.
- A demonstration in a natural "home of truffles": you will be accompanied by experienced truffle hunters and their dogs in San Miniato's countryside. This kind of search lasts for about one hour and a half from the moment of the meeting and is suitable for large groups of people as it does not require special equipment and the land is mostly flat.
The research in the woods: a true authentic "truffle beating", accompanied by expert truffle hunters with their dogs. It lasts for about five hours since the moment of the meeting. This is a very unique experience, which takes place in the beautiful hills surrounding San Miniato. It requires equipment suitable for wood: long trousers and high shoes or boots. The paths are simple but not flat because of the hilly land. The departure could be scheduled for the early morning (until lunch time) or for the early afternoon (until the sunset).
Both experiences include a very detailed explanation about the white truffle of San Miniato in Italian or in English (with the support of an interpreter): his nature, history and also few legends that have been always fascinating for those who wants to get to know this mysterious Mother Nature's treasure.Together with the search you can choose to combine fine white truffle-based tastings, lunches or dinner (together with other local products and wines) in typical farms or restaurants, which reflect the amazing Tuscan traditions and culture. During your lunch or dinner our Chefs will be more than happy to explain to you the dishes and disclose a few little secrets about how to use the white truffle to prepare tasteful dishes.
The services we offer, from search to tasting, are aimed at making you know and appreciate the White Truffle of San Miniato and we guarantee that what you will see is exclusively the original and not artificial product.